This has got to be one of my favorite recipes. It reminds us of being home and eating at the Taco Bus in Tampa, Fl. I'm always trying new recipes and tweaking them to fit my families taste buds. This recipe is tweaked a little from the original
here
. I only changed a few ingredients.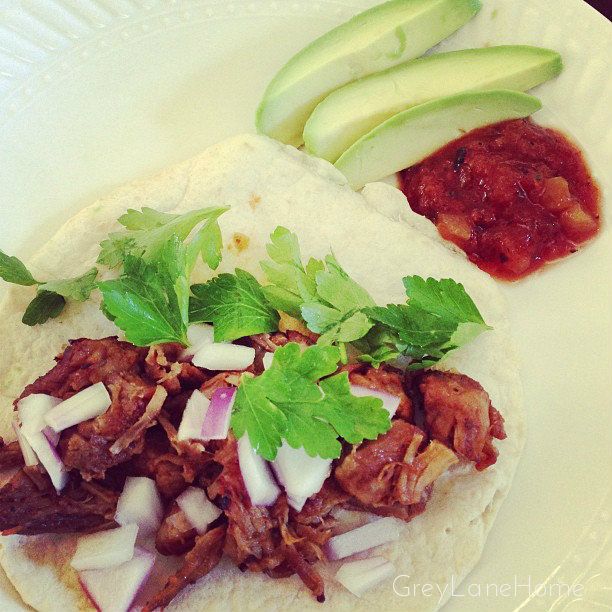 4 pound boneless pork butt, fat trimmed and cut into 2 inch cubes
1 teaspoon ground onion powder
1 onion, peeled and finely chopped
1 tablespoon dried oregano
2 tablespoon fresh lime juice
2 medium orange, juiced and keep the spent halves
Adjust oven rack to lower middle position and heat to 300
°
F.
Combine all the ingredients in a large Dutch oven, including the spent orange halves and juice.
Bring the mixture to a simmer over medium-high heat, uncovered.
Once it simmers, cover pot and transfer it to the oven.
Cook until the meat falls apart when prodded with a fork, about 2 hours.
Remove the pot from the oven and turn on the broiler.
Use a slotted spoon to remove the meat from the pan and place it on a large baking sheet.
Remove and discard everything from the pot except for the cooking liquid.
Place pot over high heat on the stove and boil until thick and syrupy, about 20 minutes.
You should have about 1 cup of liquid remaining when it is finished.
While the liquid is reducing, use two forks to pull each cube of pork apart and spread on a baking sheet.
Pour the syrupy liquid over the pork and place on rack under broiler. Allow to brown on top about 5-8 minutes.
Take a spoon and stir meat and place back in the oven to brown and slightly crisp the other side.
Serve with your favorite toppings and a tortilla.
Our favorite toppings: Red onions, Cilantro/Parsley, Avocado, and Pineapple Salsa.
P.S. On a day where I have no time. I will buy a bottle of MOJO juice and pour the whole bottle over the pork butt in the morning. Place in the fridge and let it soak for 4-6 hours. Your meat will taste fantastic. and you won't have to chop and prepare any ingredients.